Cree introduces the Cree RSW™ LED Street Luminaire, the first of a new generation of streetlights that deliver LED energy savings and reliability in a warm color temperature that is preferred in many residential applications. The revolutionary RSW™ LED streetlight utilizes Cree's proprietary WaveMax™ technology to provide warm, even light with market-leading color quality and efficacy. Cree's RSW Series ushers in a new era of street lighting that will transform the way cities and municipalities light their residential streets, interchanges and expressways.
"Cree is committed to providing better light experiences by continuing to unlock the true potential of LED technology," said Norbert Hiller, executive vice president of lighting at Cree. "Cree's RSW Series ensures residents will no longer have to live with the glare of street lights in their homes at night, saving municipalities time and energy while reducing resources allocated to managing residential complaints about harsh street lighting."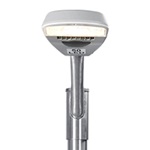 Cree RSW™ LED Street Luminaire. (Cree/LEDinside)
The Cree® RSW LED Street Luminaire is the first viable street light that delivers superior efficacy of up to 115 LPW at a color temperature of 3,000K and Color Rendering Index (CRI) of 80. Municipalities and utilities originally adopted LED lighting that used mostly cool white LED technology to help achieve good efficacies and necessary economic advantages. With the RSW Series, municipalities no longer have to opt for cooler CCT solutions in order to optimize ROI and can deploy warm lighting solutions without sacrificing efficacy for residential applications. The result is enhanced visual comfort, reduced glare and higher color contrast for residential street lighting using less energy.
The Cree RSW Series features an innovative housing for easy installation and long-life durability. It is designed to meet a vast majority of challenging roadway and street lighting applications that range from low to high pedestrian conflict areas, making it the ideal platform solution for municipalities, cities and departments of transportation (DOTs).
The Cree RSW LED Street Luminaire is available now. Please contact a Cree lighting sales representative for details and visithttp://lighting.cree.com/rsw-series for additional information.